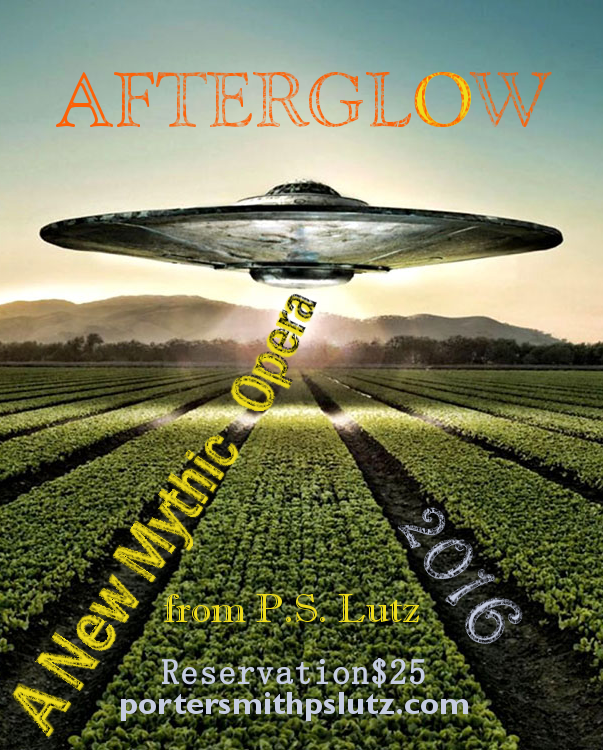 at the
Alchemical Theatre Laboratory
104 West 14th Street, New York, NY
2nd floor
---
 " To miss AFTERGLOW is to pass by the 'plein air easel' of Vincent van Gogh, on your way to an art exhibit. "
     - Doc Law @Mama's Marzipan Binge
---
 New Performance Dates Soon  
---
AFTERGLOW
ACTORS / SINGERS
| | | |
| --- | --- | --- |
| Meirav Eytan |   | |
| Lori Fredrics |   | |
| Brian Dailey |   | |
| Porter Smith |   | |
---
Is there life on other planets? 
More importantly, is there life on this planet?
AFTERGLOW is P.S. Lutz's newest mythic opera, about the shocking origins and pitfalls of poetic life on this planet.  Directed by Ed Malone, AFTERGLOW promises wild whimsy amid its searing, romantic soundtrack. This is what audiences have come to expect in recent years from the Lutz/Malone two-headed-monster-of-a-collaboration in the performing arts.  Come be abducted in your imagination by
I.E. Alien (Extraterrestrial Poet)
Botanica Lex (The Poet Tree)
B.A. Muse (Muse for Hire)
and Fred Agog (Professor of Poetry).
AFTERGLOW awaits your poetic company.
 " (P.S.) Lutz and (Ed) Malone are taking the underground stage deeper and deeper into the human heart with each new 'mythic opera'. "
     - Birch Cross Review
" AFTERGLOW is as pithy and inspiring a seventy-five minute experience in the arts as any theater goer could idealize. "
     - Doc Law @Mama's Marzipan Binge

Personal note from the author and composer, P.S. Lutz:
" Friends of the higher mind,
AFTERGLOW, this new mythic opera of mine, is part of my life's renaissance, my wish to share creativity with everyone on the planet, for us all to live poetically, whether or not we are poets. Language was always meant for more than its lowest purpose, that of communicating. It is for inspiration that we use words, metaphors, similes, song, imagery, and movement. We are each other's dearest friends and healers, if we use language for its highest purpose - to inspire. "
Come experience AFTERGLOW and sit in the company of friends and healers.
~ We await your poetic company ~